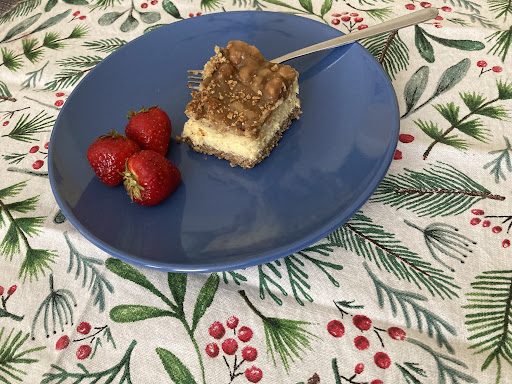 Easy Caramel Walnut Cheesecake
I like the simplistic approach to cooking and baking, where you skip a few steps and strip the process to the bare minimum without affecting the integrity and deliciousness of the end result.
This is exactly what we're doing with this variation of a caramel walnut cheesecake recipe.
We will skip covering the bottom of the pan in foil and baking in bain marie (which is a tray half-filled with water) for over an hour and opt for a lower temperature and less baking time. The point of this (skipped) step is mostly to avoid cracking at the surface of the cheesecake, which we will be covering with oozy walnut caramel sauce anyway. Also, opting for baking at a lower temperature allows the mixture to cook evenly without inflating then deflating too much.
Lets get on with this simple, but delicious treat.
INGREDIENTS FOR THE WALNUT CARAMEL SAUCE
3/4 cup of brown sugar
1/3 cup of butter
1/4 cup heavy cream
1/2 cup of toasted walnuts
Melt butter and sugar in a small pan, bring to gentle boil and let simmer for 3 minutes. Take if off the heat and mix in the heavy cream followed by the walnuts. Set aside to cool and get on with preparing the cheesecake.
INGREDIENTS FOR THE CRUST
1 1/2 cups of quick rolled or old fashioned oats
1/2 cup of toasted walnuts
1/2 teaspoon of cinnamon
1/2 cup of butter, melted
Mix the the oats, cinnamon and walnuts in a food processor or high speed blender for about 30 to 60 seconds to obtain a flour like consistency. Add the melted butter and mix. Press the mixture in a pie pan with parchment paper or a spring form.
INGREDIENTS FOR THE CHEESECAKE
16 ounces of cream cheese (2 packages at room temperature)
1 cup of sugar
1 tablespoon of flour
1 teaspoon of vanilla extract
1 teaspoon of lemon zest
1 tablespoon of lemon juice
1/4 teaspoon of salt
3 large eggs
1/4 cup of sour cream
Start by mixing the cream cheese and sugar then add the eggs one at a time, followed by the flour and the rest of the ingredients. Pour the batter on top of the prepared crust. and bake at 300F for 40 to 50 minutes. Let it cool for half and hour or an hour before topping with the walnut caramel sauce and then refrigerate for a couple of hours before serving.